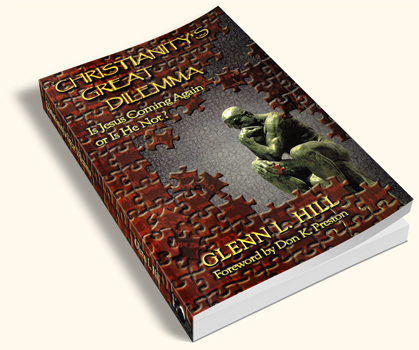 Is Jesus Coming Again or Is He Not?
Have you ever wondered what is delaying the return of Jesus—why He does not appear now to rapture His church and destroy the wicked? Do you ever ponder about how very long you have been promised that "Jesus is coming soon," but He has not returned? If so, then Christianity's Great Dilemma may be the most unusual, interesting, and perhaps enlightening Second Coming prophecy book you will ever read.
For the majority of my fifty years of preaching I taught that Jesus' Second Coming was near, so near that I expected to live to see the Advent. The ministers I listened to as a boy had the same message and the same expectation, but they died without seeing our Lord's coming. Most ministers of the past hundred years have proclaimed that "Jesus is coming soon," but He has not returned. Do you ever wonder why?
Modern-day prophets have kept us in great anticipation as they have predicted the imminent coming of the antichrist, along with such events as the great tribulation, the rapture, the end of the world, the end of time, and the battle of Armageddon. Do you ever consider that decades pass, and one century ends and another begins, yet none of these prophecies are ever fulfilled? Do you remember Y2K? As the year 2000 approached, preachers and prophets made many predictions; but nothing happened. What a dilemma! Could something be wrong with our message?
In my book you will find the answers to these troubling questions. The answers are not some imaginary or hypothetical solutions, or some invisible and intangible possibilities. The answers are firmly and solidly based on the Scriptures. Is it time for a reformation in the church's "end time" teachings?
Christianity's Great Dilemma is a MUST-READ BOOK for every studious, thoughtful, and sincere Christian. I humbly invite you to read it. I promise that you will find my book to be intellectually honest, unique, interesting, and even challenging. And, finding the answer to this dilemma will make your walk with Jesus better than ever! BUY NOW!