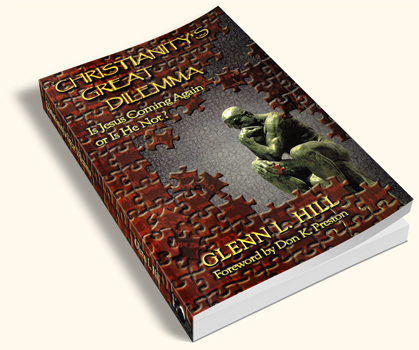 Book Description
Christianity's Great Dilemma is a Second Coming prophecy book, perhaps like no other you have ever seen or read. In this book I meticulously investigate Jesus' apparent failure to return "when" He had promised. Bible scholars wholeheartedly agree that Jesus said that He would return during the lifetime of His contemporaries in that first century AD. They further concur that His disciples continued to preach that their Master's return was imminent, at hand, and would occur soon. But today, nearly 2,000 years later, the church teaches that, not only did Jesus not come in the first century as He had promised, but also He still has not returned. This is the great dilemma! Either Jesus was wrong and misled His disciples or He returned, as He had promised, before all of His first followers had died!
I was caught in this same dilemma. My book is the result of my becoming deeply concerned over the fact that I had taught people all of my life that "Jesus is coming soon." And of course, He did not come "soon," or later! Neither did the world end in the fiery inferno that I had predicted. I was completely honest before my God about this matter. I began to seriously restudy the Second Coming. At first, I could find no discrepancy; I was preaching the same thing that the apostles had preached—that "Jesus is coming soon." But then, as I continued to study and to pray, I was struck by the fact that a time difference of nearly 2,000 years existed between the apostles and me. Two questions consumed me:
How could the Second Coming have been imminent in the days of the early church and, nearly 2,000 years later, still be imminent?
How could it be right for the apostles to have told their converts that His Advent was near and, nearly 2,000 years later, for me to tell my congregation the same thing?
Christianity's Great Dilemma is about my journey, as I tried to learn where I had gone wrong and struggled to find the truth about the great doctrine of the Second Coming of Jesus. I searched the Scriptures seeking to answer this one question: "When does the Bible say Jesus would come again?" I looked at the Gospels and the Revelation to see what Jesus had said. I searched the Epistles to see what His apostles and disciples had said. They all agreed on one answer, but that answer was totally different from what I had preached all of my life! I had only one honest choice and that was—to admit that I was wrong!
In my book you will find the answer to the great dilemma! The answer is not some imaginary or hypothetical solution, or some invisible and intangible possibility. The answer is firmly and solidly based on the Scriptures! I keep asking myself: "How did I miss this for most of my life?"
I humbly invite you to read my story. I promise that you will find it intellectually honest, unique, interesting, and even challenging. And, once you solve the great dilemma for yourself—your walk with Jesus will be better than ever!